Anglesey libraries cuts report accepted by councillors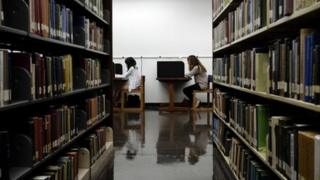 Councillors have accepted recommendations which could mean some Anglesey libraries may face closure due to a lack of funding.
A report warned that the county's library service must save 7% of its £1m budget in each of the next three years.
The council said cuts should be found without closures, but the report suggested it may be unavoidable.
The Welsh Local Government Association (WLGA) warns pressures on council budgets are "only just beginning".
More than 14.8m people visited libraries in Wales in 2010-11, a rise of nearly 1% on the previous year, according to the Chartered Institute of Public Finance and Accountancy's (CIPFA) most recent figures.
Despite the rise in visitors last year, councils across Wales have been considering library closures to save money.
A report discussed by Anglesey's Education and Scrutiny Committee on Friday said that savings of 7% would need to be found in the years 2013-14, 2014-15 and 2015-16.
It said budget guidance for 2014-16 states that "savings should be identified through transformation and redefining of services and not through top-slicing of budgets or ceasing/closing of services".
It added: "However, given the comparatively high level of budget reduction required, and the very low base of core funding that exists for the Library and Information Service it is considered that meeting this requirement will inevitably mean significant service reduction including the closure of a number of local libraries."
It goes on to state: "It is abundantly clear that the Isle of Anglesey Library and Information Service, in common with a range of council services is facing a very financially uncertain future."
The report urges the committee to make recommendations on library services which should be discussed by a full council meeting.
A council spokesman said: "Our Library and Information Service, in common with a range of council services, is tasked with identifying substantial budget savings and decisions need to be taken with regard to the future configuration and direction of the service.
"These decisions must meet the council's statutory obligations, community needs, and the council's strategic objectives."
'Great shame'
Elwyn Jones, chief executive of the Welsh Books Council, said before the meeting: "The libraries and their staff on Anglesey have given an excellent service to the people of the county and the Books Council has often worked with them on a number of reading initiatives to promote books amongst adults and children.
"It would be a great shame if this valuable service was diminished with library closures."
The WLGA recently warned of a "bleak financial climate that will be faced by local councils in Wales potentially up until 2021".
It claimed "per person spending" in Wales had fallen by 8.4% in real terms since its peak in 2009-10.
Flintshire councillor Aaron Shotton, the WLGA's deputy leader and finance spokesman, said: "The cuts and the pressures on local government finances are only just beginning, and the long term financial future of local government in Wales is challenging."