Ysgol Hendre: leaky roof fixed at new Caernarfon school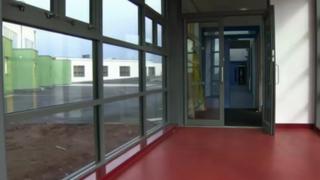 Builders have been recalled to fix a leaky roof at a new £9.3m primary school in Caernarfon, Gwynedd.
The 450-pupil Ysgol yr Hendre was opened in March this year.
A Gwynedd council spokesperson said the company which built the school dealt with the matter.
Chris Wynne, managing director of Wynne Construction, said the company dealt with the leak as soon as it was informed by the council, and it continued to monitor the situation.
"We have spoken with the school this morning and they confirmed that this was dealt with some two weeks ago and that there are currently no issues with water ingress," he said.
When it opened the council said construction methods meant the building would stay warm in winter and cool in summer.
Builder's guarantee
The school, which replaced an outdated previous building, also has wider community uses, which include hosting evening classes.
Before it opened protests were held and plans for a footpath across Llanbeblig cemetery to reach the school were put on hold after local opposition.
Roy Owen, the chair of governors, called it a very small problem and said he was happy it was being tackled under the builder's guarantee.
"I have been losing sleeping thinking things might go wrong in such a large development, but nothing else has.
"It's a very, very small problem and it is being dealt with as part of the builder's guarantee - which is 30 years on the roof," he added.