Skeleton at Llanbedrgoch, Anglesey, sheds light on Viking Age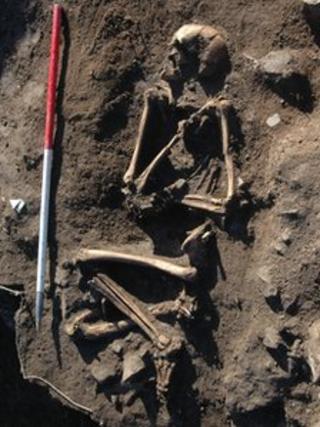 The discovery of a skeleton in a shallow grave has raised new questions about Wales in the age of the Vikings.
The skeleton, found at Llanbedrgoch, Anglesey, has forced experts to revise the theory that five earlier skeletons were the victims of a Viking raid.
Evidence now suggests the men may have spent the first part of their lives in Scandinavia.
Experts say artefacts discovered confirm Llanbedrgoch as a 10th Century manufacture and trade centre.
The site was discovered in 1994, and in the late 1990s, five bodies - two adolescents, two adult males and one woman - were found.
The bodies were thought to be victims of Viking raiding, which occurred throughout the Viking period (850 to 1,000).
However, the new skeleton discovered this summer was buried in a shallow grave, which National Museum Wales archaeologists say was unusual for the period.
They say the "non-Christian orientation of the body" and its treatment "point to distinctions being made in the burial practices for Christians and other communities during the 10th Century".
Analysis indicates the males were not local to Anglesey, but may have spent their early years - at least up to the age of seven - in north west Scotland or Scandinavia.
Excavations this year also produced 7th Century silver and bronze sword and scabbard fittings.
Archaeologists believe it suggests the presence of a "warrior elite and the recycling of military equipment" during a period of rivalry and campaigning between kingdoms Northumbria and Mercia.
Excavation director, Dr Mark Redknap, said: "Other finds from the excavation, which include semi-worked silver, silver-casting waste and a fragment of an Islamic silver coin - exchanged via trade routes out of central Asia to Scandinavia and beyond - confirm Llanbedrgoch's importance during the 10th Century as a place for the manufacture and trade of commodities."