Great Orme goats: Contraceptive jabs cut kid births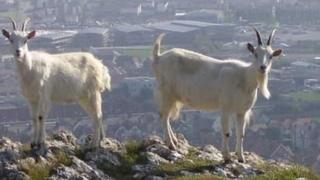 The goats of the Great Orme may be a distinctive feature of a north Wales beauty spot - and a gift from royalty - but not everyone appreciates them.
But now a contraception programme is having an impact on the Llandudno headland, where goats put a strain on grazing and often raid local gardens.
The kid birth rate has fallen to 20, against up to 60 in previous years.
The head of a local primary school welcomed the drop but said it would be better if they did not breed at all.
The goats were a gift to Lord Mostyn from Queen Victoria and although originally in the ownership of the Mostyn estate in Llandudno the goats have now reverted to a wild state, and are regarded as wild animals.
Autumn marks the rut, or mating, season for the feral goats and they can give birth as early as February the following year.
"The vaccination programme began in 2009 in response to a rising goat population," said Sally Pidcock, the country park warden on the Great Orme.
"The contraceptive vaccine is administered to the nanny goats who have to be rounded up for that purpose."
In 2009 65 nanny goats were vaccinated, although not all the goats are captured, and not every captured nanny goat is vaccinated, to ensure the herd continues.
'Not natural'
Subsequent round-ups were held in 2010 and 2011 to recapture the nanny goats vaccinated in 2009, to vaccinate additional nanny goats and to take blood samples for analysis to check if the vaccine is working or note.
"Over time, this fall in birth rate will effectively help to control the Great Orme's feral goat population," said Ms Pidcock.
"Following a recent count the population currently stands at approximately 146 animals.
"To further reduce the population goats are also relocated to other conservation grazing projects, with 52 being relocated since 2009," she added.
Despite fewer goats there are still some problems with damage to property, and the council says it is impossible to "goat-proof" the Orme.
"I welcome the fact there are fewer goats, but I'd prefer if none were born," said Ian Jones, head teacher of nearby San Sior primary school.
"They are not natural to the Orme - they were a gift in Victorian times.
Young trees
"This time of year isn't bad but they come down towards the end of winter, or earlier if it's very cold, to look for food.
"We plant young trees, such as native Bardsey Welsh apple, and they don't just damage them, they destroy them.
"It costs hundreds of pounds every year and although we win prizes with the garden here we have to plant according to the goats rather than the weather.
"We wait for them to go back up the Orme as the weather improves.
"There is also the issue of what they leave behind. Often the yard will be covered in what could be described as brown hailstones and it is carried into the school on children's shoes."