Llyn Padarn: Welsh Water's £15m lake quality programme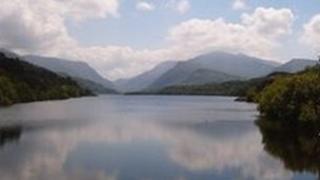 Water quality in a Snowdonia lake is set to be improved as part of a £15m project.
Work at Llyn Padarn in Llanberis will take several years and includes upgrading the local pumping station.
Welsh Water says is also looking at long-term solutions such as diverting all waste water away from the lake.
In February a local angling society said it was taking legal steps to stop what it called an environmental disaster at the site.
At the time Fish Legal served a notice on the Environment Agency on behalf of Gwynedd-based Seiont, Gwyrfai, Llyfni Angling Society over Llyn Padarn.
It claimed the rare arctic char may die out at the site within 10 years due to water quality problems.
Options
The lake, which is a Site of Special Scientific Interest, is also periodically affected by algae which affects animals and can be harmful to humans.
The water company said it had worked closely with the Environment Agency Wales (EAW), Gwynedd County Council, The Countryside Council for Wales and other "interested parties" to investigate the "complex water quality issues in the lake, including the algal bloom that appeared in 2009".
Welsh Water said a EAW report of 2010 identified nutrients entering the lake from a variety of sources including the Llanberis waste water works.
These are believed to be a cause of the growth in algae that may have affected the arctic char fish in Llyn Padarn.
Steve Wilson, Welsh Water's director of waste water operations, said great progress had been made in improving water quality and the work would continue for several years.
"We've been working in partnerships to do all we can to minimise phosphate discharges," he said.
"We've looked in great detail at a number of options and evaluated each one.
"Our preferred solution is to divert all waste water discharges away from the lake."
That would involve closing the Llanberis treatment works and installing a pipeline from the village to the Brynrefail works, around 5km (3 miles) away.
"This treated water, which would discharge from Brynrefail to the Afon Seiont will meet the highest quality standards - considerably better than present day discharges," said Mr Wilson.
"This means, as we have achieved elsewhere, the discharges should have no detrimental impact on fish in the river."