Festival No 6 at Portmeirion 'sound proofing' after local complaints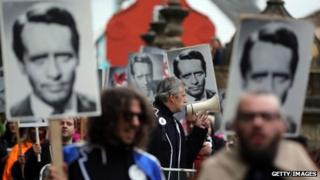 Festival No6 in the Italianate village of Portmeirion in north Wales is taking steps to cut noise after complaints from neighbours.
Residents living right near the site were not disturbed, but noise carried across the Dwyryd estuary to Talsarnau.
Portmeirion's management said lessons had been learned and a meeting is planned to explain changes to locals.
The first event ran for three days in September and tickets are already on sale for next year's event.
During its first year organisers said 6,500 attended the festival - whose name was inspired by the 1960s cult TV series The Prisoner which used the village as a backdrop and where Patrick McGoohan's character was called Number 6.
Live acts last month included New Order, Primal Scream, Death In Vegas and Spiritualized.
There were also literature and performing arts events.
Noise problems
Measures had been taken to alleviate noise problems for the site's near neighbours in the village of Minffordd, but noise carrying over the estuary to Talsarnau had not been anticipated, say organisers.
One of those affected, Arthur Harris, said he enjoyed living in Wales until "the racket" disturbed the peace.
"I can't understand why the council granted this festival permission to be held every year, and I can't understand why they were allowed to carry on until 3am.
"My home is well insulated, and double-glazed but you could hear, feel and sense the bass notes. It kept me awake."
A Gwynedd council spokesperson said the council will consider any complaints received regarding the event in accordance with the agreed license conditions.
Wind direction
Portmeirion's managing director Robin Llywelyn said steps had been taken to solve the noise issue for future events.
"In Minffordd there was no sound but not enough attention was given to noise crossing the beach.
"We think it was made worse because of the direction of the wind that weekend.
"It is a pity that we did not hear of the complaints until after the event as something could have been done about it at the time otherwise," he added.
Tickets for next year's event's are already on sale and despite the line-up not yet being announced 1,000 tickets have already been sold, he said.
"We will now be arranging a meeting with the community in Talsarnau to explain to them what steps are being taken.
"We hope to reassure them and it will give them an opportunity to speak to us and we hope we can put their fears to rest," Mr Llywelyn added.