Dyfi Bridge: Snowdonia National Park road sign objection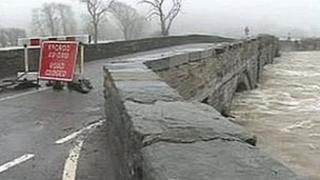 Plans for a dot matrix sign to alert drivers to a possible bridge closure in Snowdonia have been criticised for being too big.
The electronic sign has been proposed to let drivers travelling along the A470 towards Machynlleth, Powys, know when the Dyfi Bridge is closed.
The Welsh government Trunk Road Agency wants to erect the 4m x 2m (13ft x 6ft) sign near Cross Foxes, Dolgellau.
But a plea has been made for the size of the sign to be made smaller.
The Welsh government said the sign conformed to standards and would show 'dynamic messages' to motorists.
But the Snowdonia National Park Authority, which only has the right to make observations on the plan, has asked for a smaller less intrusive sign.
Senior planning officer Aled Sturkey told the park's planning committee that the signs could be erected without planning permission.
However the committee unanimously objected to the Elekra traffic information sign with flashing lights.
Councillor Aeron Jones suggested that as there was a highways depot less than a mile from the site a portable warning sign could be erected when necessary.
'Dynamic messages'
Iolo ap Gwynn, the park's vice-chairman said there was no objection to warning signs but they had to be compatible with existing signs within the national park.
There was a warning too, by councillor Alwyn Gruffydd, that the signs would lead to the 'urbanisation' of the rural environment within the national park.
"It's the sheer size of the sign that is the problem it will be 15ft wide and 9ft high in an area of natural beauty which needs to be protected," he added.
Dewi Gwynne, owner of the Cross Foxes bar and grill said a sign was essential.
"When the bridge is closed the council currently puts up a small sign and most drivers seem to take notice of that, so a warning is needed," he said.
"But after saying that this sign sounds enormous."
A Welsh government spokesperson said the message sign on the A470 meets design standards and allows for "dynamic messages to be displayed that warn drivers of incidents at Dyfi Bridge and at other points on the route".
He said consideration would be given to "reducing the character size on the signs and reducing bilingual message lengths but as part of this process safety implications will have to be taken into account".
"Snowdonia National Park officers will be consulted throughout," he added.