Llandudno mayor urges UPVC windows amnesty at inquiry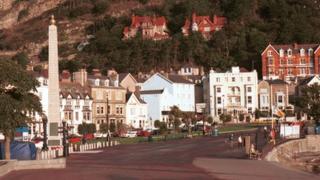 A mayor claims a dispute about windows could mean more derelict buildings in her Victorian resort town.
Myra Wigzell said Llandudno businesses could close if they must rip out UPVC windows to replace them with sash ones.
A planning inquiry was held after Conwy council, which claims the conservation area is being damaged, told a landlady to replace listed building windows.
The mayor wants a temporary amnesty for businesses and hotels. The inquiry inspector will give his decision later.
Conwy council has told businesswoman Cindy Atay to replace the UPVC windows in her flats in a listed building in Upper Mostyn Street.
But she appealed against an enforcement order, saying the steps required went beyond what was necessary.
She also appealed to be given three years - and not six months - to carry out remedial work.
Mrs Atay urged the Welsh assembly planning inspector to take a tour of Llandudno to see how many properties, including seafront hotels, had UPVC double glazing.
'Blind eye'
The inquiry heard several speakers accuse the council of casting a blind eye to hundreds of properties with plastic windows.
They said the businesswoman was being targeted so the council could make a general assault on businesses and hotels which could then have to spend tens of thousands on replacing windows.
Conwy councillor Janet Howard said: "I think that she's being singled out, the purpose being to set a precedent."
Hotels and businesses were operating on a narrow margin and, if they moved out, unscrupulous landlords could move in, with the resultant social cost, she warned.
Peter Jones-Hughes, Conwy's principal conservation officer, said there was evidence Llandudno's conservation area was being damaged.
Conservation issues
He claimed awareness of the importance of the status of 350 listed buildings was growing.
Mr Jones-Hughes denied that this was a test case and said Conwy was not seeking to apply a blanket solution to conservation issues.
In a letter read at the inquiry, AM Janet Finch-Saunders claimed inconsistent treatment of properties had led to confusion.
She called for a policy to be applied in a regular, coherent and transparent manner.
A strategy for a tourist town needed to take into consideration the importance of the conservation area but also ensure that standards for thermal and noise insulation were upheld, she said.