Bryn Terfel Scholarship: Huw Ynyr Evans wins award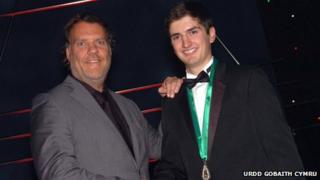 A Bangor University music student has won the Bryn Terfel Scholarship at the Urdd Gobaith Cymru youth competition.
Huw Ynyr Evans won the award worth £4,000 at a scholarship concert in Rhosllannerchrugog, Wrexham, on Sunday.
He was described as having a velvety voice by one judge, and plans to use the money for further training at a later stage.
Opera singer Bryn Terfel presented the prize to the third-year student during a live broadcast on S4C.
His programme for the concert included O'r Dwyrain mae'r Golau, Alessandro Acarletti, Pan Ddaw'r Nos, Meirion Williams and Gitâr Abruzzese, Francesco Tosi.
He said of his win: "According to the saying, there are 'three tries for a Welshman,' but luckily I only needed two tonight as this was my second attempt at the scholarship.
"It was a fantastic experience, and any one of us could have won it, so it was a bit of a shock when my name was announced.
"I am going to put the money to one side, and see how my voice develops and then hopefully, in a few years when it has settled, I can study my voice further."
Judge Gavin Ashcroft added: "It was nice to see such a wide variety on the stage of such high standard - in the end we had to look at the consistency of the performances.
"What's special about Huw is that there is something very endearing about him, and his voice is very velvety."
The scholarship was established by Bryn Terfel in 1999 to nurture young singing talent in Wales and is open to winners of eight specified competitions at the Urdd National Eisteddfod.