Emma Jones murder: Life sentence for Alwen Jones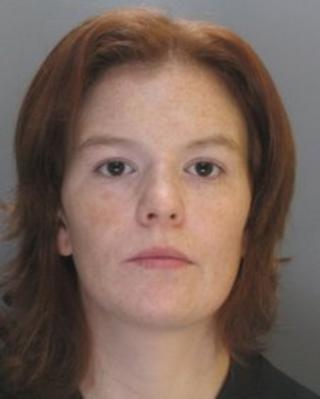 A mother-of-two has been jailed for life for the kitchen knife murder of a woman who laughed at her at a party.
Emma Jones, 31, died when Alwen Jones, 24, of Llanllyfni, Gwynedd, stabbed her at the entrance to flats during a party at Penygroes in December.
Jones was sentenced to a minimum of 18 years at Caernarfon Crown Court.
Her victim's family issued a statement describing her a devoted mother. They thanked police for bringing her killer to justice.
Passing a life sentence, Mr Justice Griffith-Williams said: "You are a troubled young woman."
He said it was clear to him that anyone who crossed the defendant that night "would have been in danger".
The court heard previously that Emma Jones was murdered close to where she lived after angering her attacker by laughing at her.
Jurors were told Alwen Jones's 21-year-old sister Grace had been asked to leave a house party at the flats by Emma Jones and her boyfriend following a disagreement.
However, Grace Jones phoned her boyfriend, who was at the defendant's home.
The prosecution said Alwen Jones became angry and armed herself with a kitchen knife which she placed down her top.
'Blood was boiling'
The prosecutor said that before lunging at the victim without warning, a woman recalled Alwen Jones shouting: "Come outside if you think you are hard enough Emma bach (Welsh for little and sometimes used as a term of endearment)".
The court heard that Alwen Jones, who had denied murder or manslaughter, claimed she had gone to the flats to take home her sister.
When questioned by police, Alwen Jones said her "blood was boiling" and she was "mad".
After causing a single deep stab wound, the court heard she threw the knife in a nearby front garden and made her way to her father's home where she hid for some time in a shed.
A statement from Emma Jones's family issued after the trial thanked police and prosecutors for "ensuring that our daughter's murderer has been bought to justice".
It described Emma Jones as a "beautiful, kind and caring daughter and sister and a devoted mother to Llyr".
"Emma lives on in our memories and no-one can understand the pain and anguish we have suffered," they said.
"We cope on a daily basis making a promise to Emma to try and carry on."
Det Sgt Dewi Harding Jones, speaking following the trial, said the verdict reflected the seriousness of the crime, "something she (Alwen Jones) will have to live with for the rest of her life".
"Our sympathy goes out to Emma Jones's family, who have conducted themselves with dignity throughout this difficult time," he added.