Fatal stab accused Alwen Jones 'frightened' trial hears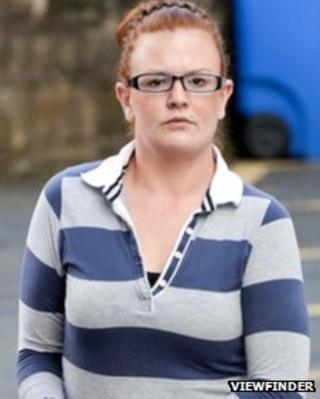 A woman accused of killing another woman has told a trial she had a kitchen knife with her because she was frightened.
Alwen Jones, 24, of Llanllyfni said she had not intended to stab Emma Jones, 31, at the entrance to a block of flats at Penygroes, Gwynedd, where there had been a party.
She had the knife inside her bra because she was scared of Emma Jones, she told Caernarfon Crown Court.
She denies murder or manslaughter.
Alwen Jones admitted she has a "bad temper" and was angered when Emma Jones laughed at her.
She said she had gone to the flats to take home her sister, Grace, who she claimed had been bullied by Ms Jones.
Alwen Jones, of Llanllyfni, told the court that he had reacted the way she did because she knew what type of person Ms Jones was, but had not meant to stab or kill her.
Giving evidence on Monday, she claimed that Emma Jones had thrown a pint glass from a first floor window and that the glass had just missed her before shattering on the ground.
She also claimed Ms Jones spat at her.
The defendant told the court that when Ms Jones yelled at her and came downstairs, she thought Ms Jones was coming for her.
She made her admission of having a bad temper while under cross examination by Ian Murphy, QC, prosecuting.
She also agreed Mr Murphy when he put it to her that Ms Jones had made a "fatal mistake" by laughing at her.
Mr Murphy said: "Emma Jones was standing there not offering any threat to you, she said 'ha, ha ha'."
He added: "You said 'I'll give you ha, ha ha' and stabbed her in the chest?"
The judge, Mr Justice Griffith-Williams, asked the defendant: "Do you agree with that?"
Alwen Jones replied: "Yes."
The jury was told that the defendant ran away when she realised that she had stabbed Ms Jones, who died after suffering a single stab wound.
At one stage, the court heard, Ms Jones, she was walking towards Dorothea Quarry, which has high cliffs when she was persuaded to return by a police officer who rang her mobile phone and urged her to think of her children.
Ms Jones was arrested after she returned home, the court heard.
The case continues with final speeches expected to be heard on Tuesday.