Conwy Tunnel: Details of £25m improvement scheme revealed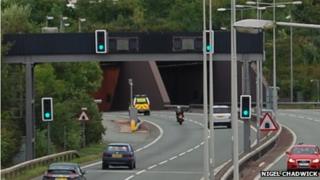 Further details of a £25m scheme to improve the Conwy Tunnel on the A55 have been revealed.
The Welsh government funding will help improve its infrastructure, as well as upgrading fire protection and lighting.
The funding was announced as part of a £65m package for transport improvements in the Welsh government's draft budget earlier this month.
Detailed plans will be drawn up, with a view to starting the work in 2014/2015.
The Welsh government said improved fire protection would help prevent the tunnel's closure for long periods in the event of a blaze.
Transport Minister Carl Sargeant said: "The funding will allow the improvements we want to make to the tunnel to be done earlier than previously planned.
"I am also pleased that we are able to make this important investment during these difficult economic times.
"Maintaining the integrity of the A55 is essential for the economy in north Wales."