Watkin Jones & Son's £450k fine over worker's roof fall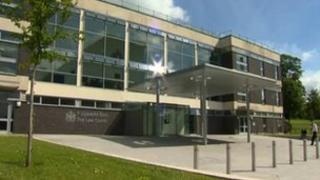 A construction firm has been fined £450,000 for breaching safety rules which led to a 21-year-old roofer falling through a hole in a roof and dying two years later.
Thomas Whitmarsh fell within 10 minutes of starting a new job at Menai Shopping Centre, Bangor, Gwynedd, in 2007.
Watkin Jones and Son Ltd from Bangor denied breaching the Health & Safety at Work Act 1974 at Mold Crown Court.
Judge Niclas Parry also ordered the firm to pay £98,000 costs.
Protection removed
The court was told sub contractor Mr Whitmarsh had arrived with a team of roofers from Leeds to work at the site shortly before falling 5.2 metres (17ft), suffering serious injuries.
He suffered a major head injury, significant brain injuries, impaired speech and co-ordination, went blind in one eye and suffered hearing loss and had meningitis.
Nigel Lawrence, prosecuting, told the jury that Mr Whitmarsh died in November 2009.
The jury heard how voids on the roof were protected by scaffolding bars and covers, and how other voids had protection underneath to prevent accidents.
The hole where Mr Whitmarsh fell had nothing underneath, and had overhead scaffolding protection, but the scaffolding had to be removed so that the roofing contractors could do their work.
Judge Parry said Watkin Jones and Son instructed two labourers without any experience of working on a roof, without any protection, training or instruction, to simply go up there to remove the scaffolding protection from around the void.
The workers, incapable of appreciating the risk they were creating, left that void effectively unprotected, covered only by an insecure piece of wood, barely fitting the void.
Judge Parry said the offence of failing to ensure the safety of those not in their employment was aggravated by the obvious forseeability of serious injury.
The judge said that on this occasion the defendant company had fallen "far below" the standard of care that was reasonably to be expected.
It had not been done as a result of cutting corners, or putting profit before safety.
The most obvious aggravating feature was "the tragic, unnecessary and entirely avoidable" waste of a life.
Chain of command
Judge Parry said he was satisfied the company generally recognised the important of health and safety and had a good relationship with the Health and Safety Executive.
But there was a serious breakdown in the chain of command on who might be working, who should carry out such work, and what instruction and capability they had.
The judge said that the duty of care for his welfare also lay with two other sub contractors, Redwither Roofing and A Hick Single Ply Systems Ltd of Yorkshire, who had brought him to the site.
Judge Parry stressed that the sentence did not and could not attempt to reflect the loss of life.
Watkin Jones and Son had denied breaching the Health & Safety at Work Act 1974.
John Cooper, defending, said the firm took health and safety very seriously, and had a safe method working in place with its contractors.
But it had no idea that Redwither had subcontracted the work to the Hick company, which brought Mr Whitmarsh and others onto the site.
The void was in an area where the contractors were not expected to be working at that time. He said the company had done everything reasonably practicable to prevent an accident happening.