Wylfa nuclear plant: No French-Chinese consortium bid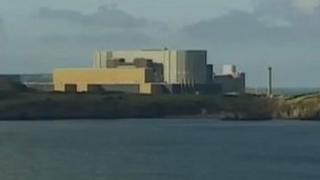 A French-Chinese consortium has dropped its bid to build an £8bn nuclear power station on Anglesey.
The Horizon project to build new reactors at Wylfa and Oldbury, Gloucestershire, was put up for sale by German-owned E.ON and RWE in March.
Areva and the Guangdong Nuclear Power Corporation Holding (CGNPC) did not submit a bid by Friday's deadline, saying their interest was "suspended".
Two other companies were thought to be interested in taking over the project.
The American power giant Westinghouse and the US-Japanese partnership GE Hitachi were also predicted to submit bids.
People close to the talks, cited by the Financial Times, said China may still invest in Horizon at a later date along with other nuclear projects in Britain.
Horizon declined to comment on the report.
An Areva spokesperson said: "I can now tell you that Areva and CGNPC have suspended their interest in the planned sale of Horizon Nuclear Power and did not submit a bid"
'Critical'
The Horizon joint venture was set up in 2009 to build new nuclear plants to replace the 40-year old Magnox reactors at Wylfa and Oldbury.
E.ON and RWE pulled out in March blaming the global economic crisis and Germany's decision to phase out nuclear power in the aftermath of the Fukushima accident in Japan.
New Welsh Secretary David Jones said in September that securing a new nuclear station on Anglesey was "critical" to his economic efforts.
He said Wylfa represented an "extremely attractive investment opportunity" and there remained considerable interest in it.
A Wales Office spokesperson said on Wednesday: "The sale of Horizon is a commercial process which is being led by the current owners and their sales advisors Nomura."
The existing Wylfa plant, which has been producing energy since 1971, is set to continue generating electricity until the fuel runs out or September 2014, whichever comes first.
Wylfa is the only Magnox site still generating electricity, following the closure of Oldbury in Gloucestershire in February.
Power generation at Wylfa's Reactor 1 was stopped on Sunday due to a problem with refuelling work
No return-to-service date has been indicated.