National Grid's north Wales development plans unveiled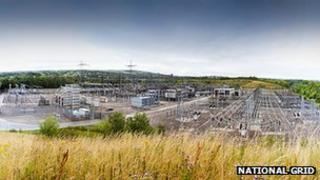 National Grid has revealed its plans to develop its network to carry electricity in north Wales.
The company says it is still working on the assumption that a Wylfa B will be built on Anglesey, but also needs a way to carry energy from an offshore windfarm being built in the Irish Sea.
It says it wants to "strengthen the existing network" alongside some new developments.
From 20 October until December a number of public consultations will be held.
"We are commencing the first phase to connect the major new power generation we are expecting to arrive in Anglesey," said Martin Kinsay, a senior project manager with National Grid.
'Large and complex project'
"We need to do that by upgrading our network and trying to maximise capacity in our existing network on the mainland," he added.
On Wednesday it was announced that a French-Chinese consortium had dropped its bid to build an £8bn nuclear power station on Anglesey.
The Horizon project to build new reactors at Wylfa and Oldbury, Gloucestershire, was put up for sale by German-owned E.ON and RWE in March.
Mr Kinsay said National Grid had spoken to Horizon and they are still "optimistic" a buyer will be found.
He said that whatever happens from National Grid's point of view it was a "large and complex project" and the company "needs to get on with the early design and development of the project".
'Range of options'
"If the power station doesn't proceed we'll need to review our proposals... we won't be building anything unless it's absolutely necessary," he added.
Amongst the proposals are a new overhead connection across Anglesey and the Menai Strait, maximising use of existing network on the mainland, and replacing three underground cables in the Glaslyn estuary with 12.
Whilst not revealing the cost of the proposals Mr Kinsay said the company had looked at a "whole range of options, and what we're announcing is a proposal which is nearly a billion pounds cheaper than the alternatives".
"That is important because ultimately, the cost of National Grid's work does actually end up on people's electricity bills," he added.