Wylfa power station refuelling problem stops reactor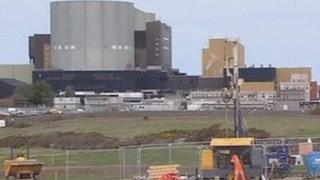 Inquiries have got under way after Reactor 1 at the Wylfa nuclear power station on Anglesey was stopped due to a problem with refuelling work.
Operators Magnox said it was investigating to identify the nature and cause of the issue on Sunday with the reactor which powers two turbines.
There was no estimated return-to-service date he added.
Recently the plant was given permission move fuel from Reactor 2 to Reactor 1 to continue generating electricity.
It will therefore be able to produce electricity until the fuel runs out or September 2014, whichever comes first.
The station is due to close after that date and plans for Wylfa B are on hold.
In July it was announced the Areva group and China Guangdong Nuclear Power Corporation (CGNPC) group were to bid for the Horizon project, which includes Wylfa B.
The fuel move has the backing of the Office for Nuclear Regulation and is supported by the Department for Energy and Climate Change (DECC).
Wylfa is the only Magnox site still generating electricity, following the closure of Oldbury in Gloucestershire in February.
Last month the UK government's continued commitment to the nuclear industry was been restated by the new Welsh secretary, on his first official engagement.
David Jones said securing a new nuclear station, Wylfa B, on Anglesey was "critical" to his economic efforts.