Conwy schools transport budget 'to go £500,000 in the red'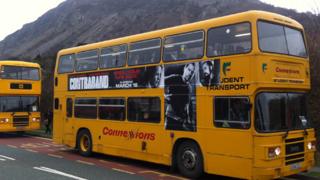 Conwy council's school transport budget is predicted to go more than £500,000 into the red.
An auditor's report to councillors blames "ineffective management" and "poor project planning" for the overspend on school buses and taxis.
Service managers admitted they have no idea exactly how much the overspend will be in the current financial year.
The director of highways said lessons had been learned but the priority was to get children to school.
Clwyd West AM Darren Millar said it was "an absolute shambles" and called for council officers to be held to account.
Conwy's home-school transport department is run jointly with neighbouring Denbighshire county council. The two departments were merged in late 2010.
But the report said that since the two councils began working together, there were issues with insufficient staff and computer records not being kept up to date. Conwy council's contract files were lost when the joint service was set up.
The report by internal auditors from the two councils concluded: "It is clear that financial management in both Denbighshire council and Conwy council has not been effective."
At a meeting of Conwy council's audit committee on Monday, several councillors criticised the director of highways, Stuart Davies, for failing to take control of the problem sooner.
Independent councillor Dave Cowans told Mr Davies: "I'm not sure in my mind that you are addressing the seriousness of losing £500,000. If there was a staffing issue, you should have thrown staff at it to sort the problem out."
Lib Dem member Brian Cossey said: "People are trying to defend the indefensible. Everything that could have gone wrong has gone wrong."
'Safe and efficient'
Mr Davies said he wasn't able to give accurate predictions on how big the over-spend would be.
But he added: "I can assure you the predicted £500,000 figure is being taken very seriously.
"The service transports 4,000 children per day in Conwy county alone. The priority has always been safe and efficient transport for those children.
"While the team have been concentrating on delivering the service, they haven't been able to stand back and deal with the wider issues.
"Lessons have now been learned."
Conservative AM Darren Millar has called for an urgent meeting with officers to deal with problems with school transport, including difficulties at the start of term in the village of Betws-yn-Rhos, near Abergele,
"The department is an absolute shambles," he said.
"It's important that officers are held to account and can control costs and deliver a service which inspires the confidence of parents."
Samantha Jones, a parent from Betws-yn-Rhos, said that council staff only called her on the first day of term, after the children had started school, to say that a new taxi firm would be picking them up.
"It's just common sense that if you're letting someone have care of your children, they should get in touch and explain what's happening and who they'll be with," she said.
The report said that the home-school transport service in Denbighshire was not in as bad a position as in Conwy county, but said that there were still weaknesses there which need to be dealt with.
In March, the overspend was reported to be £290,000, prompting bus operators to say they had warned of potential problems in the tendering process.
Aberconwy MP Guto Bebb said at the time that some companies who had won contracts with very low bids had walked away when they couldn't deliver, leaving the council to find replacements at short notice.