Penygroes trial: Alwen Jones denies murdering Emma Jones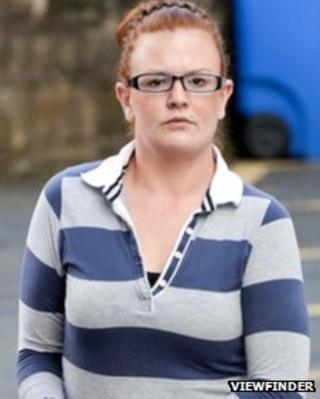 A 24-year-old woman who stabbed another woman to death claimed she deserved it after her attack on a family member weeks earlier, a court has heard.
Alwen Jones told police she "flipped" when she attacked Emma Jones, 31, in the Gwynedd village of Penygroes, Caernarfon Crown Court was told.
The prosecution said Emma Jones did nothing to provoke the attack, although the defendant said she deserved it.
Alwen Jones denies murder or manslaughter. The trial continues.
The defendant claimed Emma Jones deserved what happened "after she stabbed a family member of mine a few weeks ago," the prosecution said.
Ian Murphy QC, prosecuting, said the fatal attack happened on 10 December last year after the defendant's 21-year-old sister Grace had been at a party at a block of flats and there appeared to have been a disagreement with another woman.
Mr Murphy said the house party followed an earlier party at the Victoria pub, which Alwen Jones, of nearby Llanllynfi, had been barred from.
The barrister said Emma Jones and her boyfriend arrived at the party and she asked Grace Jones to leave. However, Grace Jones phoned her boyfriend, who was at the defendant's home.
Mr Murphy said Alwen Jones became angry and armed herself with a kitchen knife which she placed down her top.
'Blood was boiling'
The court heard that when questioned by police, Alwen Jones said her "blood was boiling" and that she was "mad."
She added: "I flipped and went for her with the knife."
The prosecution said that before the attack, a woman recalled Alwen Jones shouting: "Come outside if you think you are hard enough Emma bach". [little Emma]
Alwen Jones had claimed she carried the knife to protect herself and her sister because of Emma Jones's reputation.
After causing a single deep stab wound, the prosecution said Alwen Jones threw the knife in a nearby front garden and made her way to her father's home where she hid for some time in a shed.
The injured woman's boyfriend put her in a car and arranged to meet an ambulance but she was pronounced dead in hospital at Bangor.
Mr Murphy said: "This is a case where the defendant armed herself with a knife and walked purposefully for 10 minutes to the scene to find her sister safe from potential harm outside the building where Emma Jones was.
"Thereafter, in what can only be anger and aggression, Alwen Jones conducted a verbal exchange with Emma Jones who as a result came downstairs to the front door.
"In further anger and aggression, without warning, the defendant stabbed Emma Jones through the chest.
"The defendant didn't have a reasonable belief she needed to defend herself or her sister and she was throughout the aggressor."
Mr Murphy said: "What we have in this case is a loss of temper and anger. This is clearly a tragic case with tragic consequences."