Snowdon squirrel: Hafod Eryri staff try to catch visitor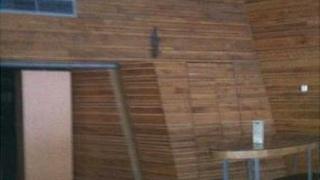 Staff in the highest building in Wales have been trying to catch a grey squirrel inside the visitor centre on the top of Snowdon.
It has been photographed near the dining area, and is believed to have stolen packets of nuts.
Sheep, the odd seagull, mice and even frogs are seen on the 1,085 m (3,560 ft) peak, but it is the first squirrel.
Employees think it is unlikely to have hitched a ride on the train to the summit, and probably walked up.
"It was first seen a couple of months ago, then it wasn't spotted again and we thought it had gone," said Jonathan Tyler, the summit manager.
Staff in the building, Hafod Eryri, are trying to humanely catch it to "take it back to where it's more at home", he added.
"One of the supervisors then saw it this week, and managed to get a picture of it, so it is living here somewhere and it's trying to help itself to food," said Mr Tyler.
"We're wondering if it's the highest squirrel in the UK.
"We can't see how it got here either, as it can't have come on the train and the tree-line is a good 700m below us."
'Problem for conservationists'
Hywel Roberts, the senior reserve manager for north Snowdonia with the Countryside Council for Wales, said he was not surprised the squirrel had got up there.
"They are getting everywhere as their numbers increase.
"I think it walked up as it's unlikely to have travelled on the train.
"Grey squirrels are a problem for conservationists because they affect small birds and other animals," he added.
The BBC's nature website notes that grey squirrels are notorious for displacing red squirrels in European woodlands.
They were introduced to the UK from the USA in the late 19th or early 20th century.
They are now widespread throughout England south of Cumbria and Wales, and common in local pockets in Scotland.
In Wales just across the Menai Strait on Anglesey - which is within sight of Snowdon - there has been a project to reintroduce red squirrels, with numbers on the island increasing so much in recent years that townsfolk were reported to be finding them in their back gardens at the beginning of this summer.
Conservationists estimate the island now has up to 500 reds, up from 40 when a project to boost the population began in 1997.
Anglesey is one of only three areas in Wales with red squirrels.