RAF winchman Richard Taylor's Swanland rescue bravery award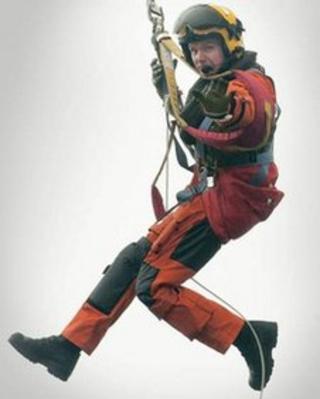 An RAF winchman involved in a north Wales sea rescue in which six Russian ship crew died has won a bravery award.
Master Aircrewman Richard Taylor was part of a four-man team, which included the Duke of Cambridge, called out to the stricken Swanland off Gwynedd.
Despite a malfunctioning winch that threw him into the water and left him trapped under a dinghy at one stage, he helped two survivors to safety.
He will get The Queen's Commendation For Bravery In The Air on Tuesday.
The RAF said he remained "calm and focused, showing true courage and determination when in extremely stressful and dangerous conditions, demonstrating outstanding bravery and skill".
On 27 November last year off the Llyn Peninsula, the cargo ship was struck by a giant wave during a gale force eight storm.
Its hull was broken and the ship sank quickly 20 miles (32km) from shore in the Irish Sea, putting eight lives at risk.
A nearby ship had reported seeing dinghies in the water and passed their position to the crew at RAF Valley on Anglesey.
There was no indication anyone had survived on the first dinghy but, as the crew was not certain, the winchman went out to search.
However, the conditions led to the winch system malfunctioning throwing him into the sea on several occasions and trapping him under the dinghy.
He managed to free himself before and was winched to safety before the crew went to the next dinghy.
'Nasty conditions'
Master Aircrewman Taylor made it to the dinghy and found two survivors who were then winched up to the aircraft uninjured.
Aircraft captain Flt Lt Thomas "Sticky" Bunn said: "The weather was already howling when we went to bed and I half expected the job phone to ring that night, but hoped it wouldn't as the conditions were going to be nasty.
"The Sea King's auto hover system was struggling to hold position in the high sea state so we had to hold the hover above the dingy manually.
"This meant things were a bit more difficult than we would have liked.
"Sgt 'Livvy' Livingston, the radar/winch operator, reported Rich swinging towards and entering the water and then the dingy flipped with Rich still inside.
"This wasn't pretty and I feared for Rich."
The search for five missing crewmen was called off on 29 November.
They were captain Yury Shmelev, 44, chief engineer Gennadiy Meshkov, 52, second engineer Mikhail Starchevoy, 60, able seaman Sergey Kharchenko, 51, and ship's cook Oleg Andriets, 49.
Chief officer Leonid Safonov, 50, was pronounced dead after his body was recovered from the sea shortly after the ship sank.
The two survivors Roman Savin, 26, and Vitaliy Karpenko, 48, later thanked rescuers for their efforts in such difficult conditions.