Crypto water bug numbers rise further in Gwent pool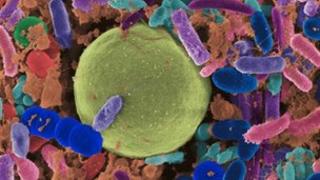 Seven more people have been diagnosed with cryptosporidiosis linked to an outbreak associated with a swimming pool in Newport.
It brings the total of those affected from the water-borne bug cryptosporidiosis directly from the pool to 14.
Newport Centre Swimming Pool was closed by Newport City Council when informed of a problem on 6 September.
Public Health Wales said investigations are currently under way.
"Ongoing investigations have identified a further seven people who have become unwell since mid-August and have visited the swimming pool at the Newport Centre," said Dr Lika Nehaul, consultant in communicable disease control with Public Health Wales.
"I would like to remind the public that anyone with symptoms of diarrhoea and vomiting must wash their hands after using the toilet or before preparing food to avoid the spread of infection to others."
He advised that anyone with symptoms should not return to work or school until 48 hours after symptoms have stopped, and wait for two weeks before using any swimming pool.
Sheila Davies, Newport City Council's corporate director for regeneration and the environment, said she would like to reassure residents that their health and protection at council facilities is of "paramount importance".
"As soon as it came to light that there were cases potentially linked to the pool, we took immediate action and closed the pool.
"The pool will remain closed until we are 100 per cent satisfied that everything is in order and the risk to those using the facility is minimal.
"We'd like to apologise to customers for any inconvenience caused," she added.