Gwynedd schools: Ysgol y Parc closure confirmed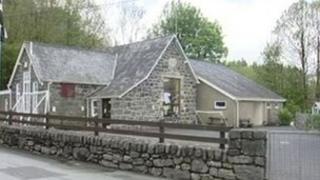 Gwynedd council's plans to close a rural primary school have been approved by Education Minister Leighton Andrews.
Ysgol y Parc near Bala is due to close in September 2013 on the grounds of being too small to be viable.
More than 140 objections were raised, many from teachers, parents, pupils and governors of neighbouring schools.
Mr Andrews said Ysgol y Parc was an effective school but with surplus places, and he was satisfied pupils would get a good education elsewhere.
The closure was also opposed by organisations including Merched y Wawr, Cymdeithas yr Iaith Gymraeg, and farming unions.
Under a £10.2m plan to reorganise schools in the Berwyn catchment area, pupils would go instead to Ysgol OM Edwards at Llanuwchllyn, three miles away.
Gwynedd council said closing Ysgol y Parc would strengthen pupils' Welsh language use and save around £70,000 per year plus nearly £600,000 worth of upgrading work.
The school was originally due to close in September this year, but was given a 12-month reprieve as councillors sought to clarify where funds for reorganisation were coming from.
Language supported
The Welsh government has now written to Gwynedd council confirming the minister's approval of the closure, saying the authority had adequately answered the objections and taken them into account.
The letter said although Ysgol y Parc offered a good standard of education, there had been surplus places for several years and it was less able to recruit and retain staff.
It added that Ysgol OM Edwards, to which the pupils concerned would be transferred, achieved higher grades than Ysgol y Parc in all seven key questions when last inspected by Estyn in 2006.
Mr Andrews was also said to believe that an enlarged Ysgol OM Edwards would be potentially stronger in terms of size and resilience to fluctuations in pupil numbers, as well as sustaining and promoting the Welsh language.
He noted Gwynedd council planned to spend nearly £925,000 extending and remodelling the school.
The minister added that impact of the closure of Ysgol y Parc on the community would be reduced by the continued availability of its community hall as a local resource.
Gwynedd council welcomed the Welsh government's approval of the closure.
Sian Gwenllian, cabinet member for education, said: "Closing a school is never an easy decision, particularly a school that has taught generations of children, and there has been careful deliberation before arriving at the decision.
"Now that the minister has announced his decision to close, we can move ahead with the work of upgrading Ysgol OM Edwards for the benefit of the children of the area."