Aberystwyth to Bangor route new bus operators take over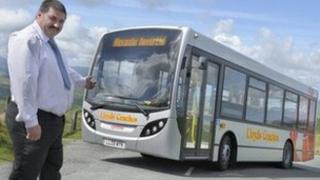 Two bus companies have taken over the route between Ceredigion and Gwynedd with the creation of five new jobs.
It follows an announcement by Arriva Buses that it was cutting the X32 Aberystwyth to Bangor service due to lack of customers and said eight jobs would be lost as a result.
Lloyds Coaches and Express Motors will run fewer buses on the newly named T2 route but say better 'link-ups' would improve services.
The new service starts on Monday.
"This is an essential service because we live in a desert if you don't have a car and need to visit someone in hospital at Bangor or Aberystwyth," said Dolgellau town councillor, and former town mayor, Delwyn Evans.
Passenger numbers
He acknowledged that the numbers using the bus service were low, but urged for the service to be subsidised as the options open to travellers in the area were limited.
A spokesperson for Arriva Buses Wales said the company agreed to operate the X32 Bangor to Aberystwyth TrawsCambria Service commercially for a period of six months in February 2012 in order to assess its sustainability.
"As a result of this assessment, in light of falling passenger numbers and the current economic climate, service X32 will be withdrawn from September 2012.
"Staff numbers at our Dolgellau outstation have reduced. After a consultation period, eight staff will be made redundant."
"We're glad to be taking over as it will create five new driver jobs for our company, taking the number working here to over 50," said Richard Lloyd Jones the general manager at Lloyds Coaches.
"Our aim is to improve the service for the customer and although we will be running fewer buses we're working hard to make sure services link up so that overall travellers are better off.
"We've taken the contract on for two years and in that time hope to grow the service and develop a partnership with local authorities," he added.
Lloyds Coaches and Express Motors take over on Monday 24 September.