Tywyn school ignores Gwynedd council £500k 'safe route'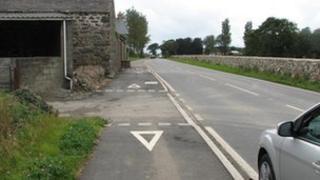 A Gwynedd secondary school is refusing to let its pupils use a council-backed "safe route" to school which cost £500,000 of public money.
Pupils at Tywyn School used to have free bus passes but since the start of September have had to walk the new Bryncrug to Tywyn path.
The school's headteacher and some parents say the two-mile route is unlit and unsuitable in winter conditions.
The council said the route did not pose a greater risk to pupils than others.
The school is using its own minibus to transport pupils.
"Our caretaker drives the minibus to pick up around 16 children in the morning and takes then home again at teatime," said Ysgol Uwchradd Tywyn headteacher, Helen Lewis.
"It is unlit and at two miles long in bad weather children will arrive at school soaked.
"As a parent I wouldn't like to think of my child walking along that route.
"We have no objection to them walking during the summer months, that's fine, but in winter, no."
Parent Jackie Hemingsley said: "We offered to pay for our daughter to go on the bus in bad weather, or when it was dark, but that was refused and we've been told we'd have to pay the full £60 a term to buy a bus pass."
"I have no objection to her walking, this is to do with safety issues."
"There have been eight recorded accidents on this stretch in the past four years.
"We want the option to pay for a bus if we want to and for the 'safe route' label to be removed from the path by the council," Mrs Hemingsley added.
A Gwynedd council spokesperson said it had invested £500,000 of Welsh government funding to create a new footway and cycle route between Tywyn and Bryncrug.
"The new path is not deemed to pose a greater risk to pupil safety than other similar routes to school within the county.
"As a result, as is the case for children who live within three miles of their school in other areas of Gwynedd, Ysgol Uwchradd Tywyn pupils living in Bryncrug will no longer be entitled to free school transport."