Coleg Menai students to learn cruise industry skills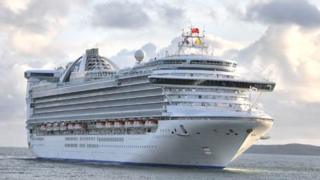 A new course is being launched which hopes to help students sail into a career in the cruise liner industry.
It is hoped the 12-week pilot at Coleg Menai in Bangor, Gwynedd, will also put Wales on course for a bigger share of the growing industry.
Students will be taught silver service and wine tasting and will be guaranteed a job interview for the chance to test their skills on the high seas.
The Welsh government said the industry offers "great potential" for Wales.
The college is working with Anglesey council, cruise ship management firm Viking Recruitment and Welsh-Irish partnership Celtic Wave.
Under the Celtic Wave collaboration, Anglesey, Milford Haven and Swansea ports work with Irish counterparts in Dublin, Cork and Waterford to promote the Irish Sea as a cruise destination.
The course is open to anyone over 21, and will also include skills like bar-tending, cocktail-making and house-keeping.
Students completing the course will be given an interview opportunity with Seabourn Cruise Lines.
Dylan Williams, head of service economic development on Anglesey council - which manages the Celtic Wave Project - said: "All the cruise line recruitment companies historically target the London area and young people in Wales and Ireland are not necessarily aware of the employment opportunities that cruise lines have to offer."
He added: "This a great opportunity for young people to join the expanding cruise ship industry, an industry which has considerable growth potential here in Anglesey through the port of Holyhead."
Kevin Spencer, of Viking Recruitment - which provides staff for Seabourn - agreed recruitment searches were often focused in larger cities, particularly London.
He said: "There are areas like north Wales that we can target more locally.
"Thankfully, the Celtic Wave project is allowing us to do that.
"It's about getting the message out there. People don't know that, with the right skills and background, the opportunities are out there in the cruise liner industry."
If successful, Mr Spencer said he hoped the recruitment drive and course could become a permanent fixture.
Lesley Tipping, director for service industries at Coleg Menai, said: "Excellent customer service is vital for local tourism and training these people to the highest levels will only raise local standards and help improve the local tourism industry."
The Welsh government said: "The cruise industry offers great potential for tourism and job creation in Wales.
"It is hoped the courses run by Coleg Menai will encourage young people to 'get on board' and join this exciting emerging sector and gain valuable skills and experience in the hospitality industry."
Three years ago, MPs on the Welsh Affairs Committee claimed Wales could rival popular European ports in capturing the leisure cruise market.
They claimed the number of liners visiting Wales was limited because of a lack of facilities, and urged the UK government to invest more money.
Interviews for course applicants were held this week and the course is planned to start later this month.