Operation Tornado: Llandudno meeting over scrap crackdown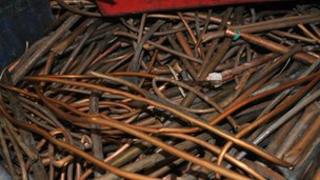 Scrap metal dealers from north Wales have met in Llandudno to discuss Operation Tornado, a police initiative to crackdown on metal thefts.
Under the scheme, scrap operators agree to insist on seeing photographic ID and a current utility bill before buying metal from anyone.
But some operators in north Wales said they would lose out under the scheme.
Gwent Police, the lead force for the operation, said they hoped all scrap metal dealers would sign up to it.
One scrap metal operator, Arthur Roberts of Arch Motors in Llandudno, said Operation Tornado would discourage legitimate trades, such as plumbers and builders, from recycling waste metal for fear of falling foul of taxation rules.
He organised the meeting of scrap dealers, which will include legal advice from a barrister.
Mr Roberts said he believed he was just one of two dealers across north Wales who had refused to sign the Operation Tornado agreement.
He said the scheme would also deter recycling of metals from tradespeople, in what he said was a "grey area" for law and those involved.
He said many people, such as plumbers, would weigh-in off cuts of copper piping and other scrap discarded during building jobs.
But the new rules would mean those items would be tracked, and it could leave the tradespeople answerable to tax officers in the future, to account for any additional income.
'Tactics'
"We lose out, they lose out, and there is less recycling of metal taking place," added Mr Roberts.
Det Supt Russell Tiley from Gwent Police, who is the Welsh representative on the National Metal Theft Working Group, said: "This latest operation is just one of many tactics that we are employing to tackle the theft of metal.
"We hope that all scrap metal dealers in Wales will sign up to the scheme to help make it difficult for thieves to sell on any scrap metal that they have stolen."