Anthrax infection of Gwynedd drug user after heroin injection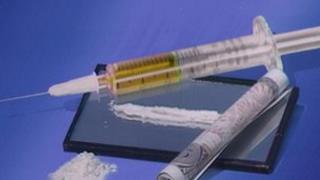 A man from Gwynedd who has injected drugs is being treated in hospital for anthrax.
Public Health Wales said he was stable in a hospital in north west England.
It is not yet clear whether it is linked to recent cases of anthrax infection in people who inject drugs in Blackpool and Scotland.
Health boards have warned substance misuse groups about the dangers of contaminated heroin and alerted doctors to look out for symptoms of anthrax.
Public Health Wales said there was an ongoing outbreak of anthrax among intravenous drug users in Europe.
A total of eight cases have been identified since early June, with contaminated heroin the suspected source.
The Rare and Imported Pathogens Laboratory at Porton Down, is providing diagnostic support to clinical teams to help them handle suspected anthrax cases.
Dr Chris Whiteside, consultant in communicable disease control for Public Health Wales, said: "It's likely that further cases among people who inject drugs will be identified as part of the ongoing outbreak in EU countries.
"The Department of Health has alerted the NHS of the possibility of drug users presenting to emergency departments and walk-in clinics, with symptoms suggestive of anthrax.
Dr Whiteside added that although anthrax was a very serious disease, it can be treated with antibiotics, especially if cases were identified early.
Public Health Wales said people can become infected with anthrax through the skin, inhalation, injection or ingestion of anthrax spores.
The symptoms of anthrax vary depending on the route of infection.
Drug users may become infected when heroin is contaminated with anthrax spores, however the drug is taken.
Anthrax in drug users was considered to be very rare.
Before the 2009-2010 outbreak in Scotland, only one previous case had been reported in Norway in 2000.