Groeslon School boycott threat over safety fears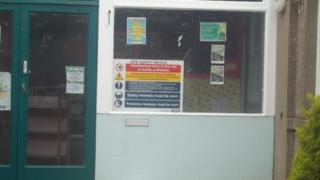 Some parents in Gwynedd say they will keep their children from a school where two classrooms have been shut after structural faults were found.
Gwynedd council says the closures at Groeslon primary school are a precaution and a temporary unit will be put in place as soon as possible.
But parents say they would rather keep their children at home until that happens rather than risk an accident.
The 75 pupils will now have to share two classrooms and the school hall.
"I'm livid that they did not let us know about this until this week," said Susanne Bearman who has three children, aged four, eight and 10, at the school.
Ms Bearman said there had also been issues in the past within the building, which was built in the 1960s.
They included toilets, main hall and buckets being used to catch water when rain comes through into the foyer, and the kitchen being condemned in 2009.
She added: "I'd like to see the risk assessment which the council has carried out to make sure our children are safe.
"As it is now I'm not happy to send my children there at all.
"The temporary classrooms will obviously be in a better condition that the current building but I'd rather keep my children home for an extra week or whatever until that arrives."
Chair of governors
The temporary unit will house year 3, 4, 5, and pupils.
Eric Jones, the school's chair of governors, said he would have preferred for the problem to have been identified earlier as the temporary classrooms would have been installed by now.
"My priority now is to make sure that they are installed immediately and that the impact on pupils and staff is kept to a bare minimum," he added.
"This can only be a short-term stop-gap measure and we must press ahead to develop the business plan for a new area school."
Councillor Ioan Thomas, whose responsibilities on Gwynedd Council's cabinet include school buildings, said inspections were regularly carried out to ensure safety.
He said the decision to "temporarily vacate" part of the building was taken after consultants found the condition of the classrooms had deteriorated.
Sian Gwenllian, the council's education cabinet member, said funding for a new area school was in place.
But she added the Welsh government wants the council to present a detailed business case on reorganising the area before it releases the money needed for the project.
A review panel will be set up to consider the school-reorganisation during the autumn, she said.