Keepers 'hand-feeding' bees after Wales' wet summer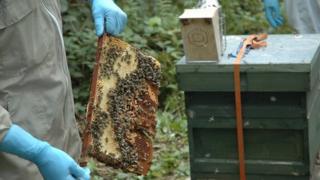 This year's bad weather has forced some beekeepers to feed their swarms to keep them alive, says the National Beekeeping Centre for Wales.
Pete Barrar, a director at the Conwy-based centre, also claims there could be less honey on sale this autumn, with some keepers failing to harvest any.
Some hives are being fed sugar syrup solutions to prevent starvation.
With bees struggling for survival, Mr Barrar also fears their numbers could be reduced next year.
Unprecedented
He said some beekeepers have fed their swarms following advice from the National Bee Unit, which is part of the UK government's Food and Environment Research Agency (Fera).
He said: "They put out a warning in mid June, asking beekeepers to be particularly vigilant and make sure their bees weren't starving.
"Some starving colonies had been found.
"That warning was unprecedented - mid June should be the most prolific part of the year."
Mr Barrar said some bees may have been able to make some honey during a short spell of good weather at the start of the summer.
However, as wet weather dominated, the bees may have been forced to eat the reserved honey in the absence of nectar.
Instead, containers of granulated sugar mixed with water are connected to hives via a feeder. The bees access the syrup through a layer of fine gauze.
Mr Barrar said a "decent-sized colony" of between 40,000 and 50,000 bees "will take a gallon of sugar syrup in a day or two".
He said honey crops were normally harvested at the end of August, but warned: "I suggest many many beekeepers will find there's no honey for them.
"I think honey will be as scarce as hens' teeth".
While some pockets of Wales might have fared better, he said the picture was generally the same across the country.
He added: "There's a beekeeper in Conwy who's been keeping bees for 50 years, and he says it's the worst year he can remember."