RSPB Cymru to pull out of Glaslyn Osprey project and help other species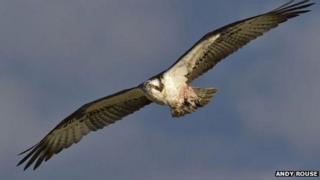 The Royal Society for the Protection of Birds (RSPB) has announced it is withdrawing from its Glaslyn osprey project site in Gwynedd.
It says that it is no reflection on the work of staff and volunteers and the decision was due to a need to re-prioritise and help species in decline.
Discussions are ongoing to get the project adopted by the local community.
More than 180,000 people have visited the site near Porthmadog since the birds of prey first arrived in 2004.
"This decision was made solely on the basis of a need to re-priorities our resources to areas of greater conservation concern," said an RSPB spokesman.
'Confined'
"A worrying amount of Wales' wildlife is in catastrophic decline and RSPB Cymru has a limited amount of resources to try and achieve an overwhelming amount of work."
He said there was good news in the fact that the ospreys are doing well in the area.
As well as the two widely publicised nest sites at Glaslyn and the Dyfi estuary there is also evidence of other recent breeding attempts, it said.
A nest set up by volunteer group Friends of the Ospreys has had a successful breeding this year too.
This suggested that the ospreys would continue to expand its range in Wales in the future with limited conservation intervention, the RSPB said.
"On the other hand, populations of other upland/farmland species such as curlew and lapwing have crashed over recent years.
"If their numbers continue to fall at the same rate they will soon become extinct as breeding birds in the wider Welsh countryside, and their existence will be confined to nature reserves," the spokesman said.
He added that the RSPB were working with the local community with the view of getting a group to take over the running of the Glaslyn site.
The Glaslyn Osprey Forum were in favour of exploring this option, but some had expressed concern about the timeline for a handover, he said.
Nest security at the site is currently run by volunteers managed by the Glaslyn Osprey project officer.
That role will be part of the discussions with the local community about the future management of the project, the spokesman added.