Anglesey Aluminium in redundancy talks with Unite union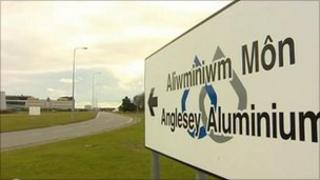 Union officials say they are in talks with management over redundancies at the Anglesey Aluminium plant.
The smelting operation closed at the works at Holyhead in 2009 with the loss of nearly 400 jobs.
About 110 staff have continued to work at the site as part of a decommissioning process and its remelt business.
The company said talks with staff and unions had began as decommissioning was to be completed by September.
A spokeswoman said the job cuts of about up to 40 staff would be from across the business as the company looked to make its remelt business stand alone.
John Hamilton from Unite said the situation was expected as decommissioning cam to an end at the plant.
He said that more talks were due to be held on Friday with the company, adding that the numbers of jobs affected have not yet been confirmed.
A number of plans have been put forward regarding the future of part of the site.
Prospective buyers last year tabled plans for a biomass power station and fish farm which they say could create up to 400 jobs.
Company owners, the Welsh government and Anglesey council have all been involved in talks about redeveloping the land for other uses.