Anglesey red squirrels seen in town gardens, say experts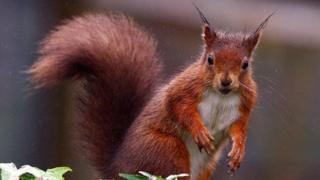 Red squirrel numbers on Anglesey have increased so much in recent years that townsfolk are now finding them in their back gardens, say conservationists.
They estimate the island now has up to 500 reds, up from 40 when a project to boost the population began in 1997.
People have sent the project photos and video of the woodland creatures they have seen in towns including Llanfegni and even in Bangor on the mainland.
Anglesey is one of only three areas in Wales with red squirrels.
Conservationists say the island has the largest recorded single population of reds in Wales.
Their numbers have risen following continuing culls of grey squirrels on the island as well as on the mainland side of the Menai Straits.
Red Squirrels Trust Wales says grey squirrels carry a virus deadly to reds and deprive the much more tree-dwelling reds of habitat by destroying areas of woodland.
Project manager and red squirrel biologist Dr Craig Shuttleworth, who works on Anglesey, said people on the island were aware that the red squirrels were the focus of an effort to ensure they thrived.
He said: "More and more people are seeing them every day.
"Before, they saw them once in a blue moon but now some squirrels are living in areas without much woodland. They are spreading out.
"People are sending us photographs and occasionally we get little bits of video.
"Gardens tend to have a mosaic of different tree species, including fruit trees, from which they can benefit.
"They also take advantage of food put out for the birds."