Another pair of ospreys successfully breed in Snowdonia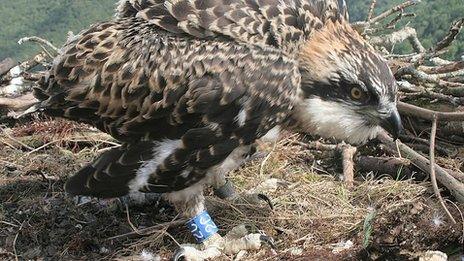 A second pair of ospreys has successfully bred in Snowdonia.
The pair set up home in one of 10 artificial nests in the Gwynedd area built by the Friends of the Ospreys.
The volunteer group works separately from the Royal Society for the Protection of Birds (RSPB) which has its own successful nesting site at Glaslyn near Porthmadog, Gwynedd.
The Friends hope success will lead to funding so a network of nests can be built in both Wales and England.
The Friends of the Osprey group was set up in 2004 and is made up of about 100 members.
Group member Darren Moore said the aim from the beginning was to build artificial nests to attract more birds.
"We approached Roy Dennis in Scotland (who runs an osprey project) for advice, and he told us to look for areas with one really high tree because the birds like easy access to fly straight out of the nest and back again.
"After we identified possible areas we approached land owners for permission to access their land. They've been great and over the years we've built 10 nests," he added.
The large birds of prey eat fish and spend winter in south Africa before returning to the UK to nest.
This year's chick is a first, and the group is keen to encourage more.
"We've not told people where these nests are because it gives better protection for the birds," said Mr Moore.
"Our goal is to build nests across areas where they were previously persecuted, places like the Wirral and the Thames," he added.
Mr Moore explained that each osprey nest is constructed out of durable timber such as oak.
"We try to get a cup shape then fill it with moss-like bio-mac material, soil then straw.
"By providing a ready-made nest it cuts down the time a pair will take to breed, because otherwise they could take two to three years before they get going," he said.
"As well as the breeding pair we've had another pair on another nest this year - but no eggs - and three other nests have been visited.
"We hope the publicity from this year's chick, which we ringed the other day, will get local people and the community on board.
"We'd like funding too so we can built more nests in the Dyfi estuary where they have another breeding pair," he added.
Geraint Williams from the RSPB's Glaslyn osprey project welcomed the work done by the Friends group.
"It shows there are ospreys here and our three (chicks) have left the nest and are flying around the area.
"It's great to hear of other birds establishing themselves," he said.
Related Internet Links
The BBC is not responsible for the content of external sites.