Trucker who drove miles after losing wheel fined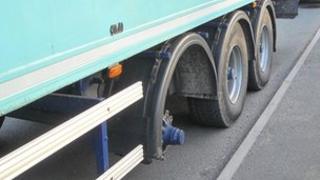 A chemical lorry could have caused a catastrophic accident after the driver carried on when he failed to realise he had lost a wheel, say officials.
It is not known how far the truck went without one of its six rear wheels.
The driver's journey took him over 110 miles (177km) on the A55 from Anglesey to Cheshire before being stopped.
He told officers he had felt a vibration during his journey. He received a fixed penalty, and officials are still trying to find the wheel.
The lorry had left Holyhead carrying a concentrate widely used in the drinks industry, which can be highly corrosive in the concentrated form in which it was being transported.
The truck was stopped travelling south on the M6 at Sandbach on 27 June.
The Vehicle and Operator Services Agency (VOSA) prevented the driver continuing his journey to his homeland of Romania.
VOSA officers said the wheel and other solid metal parts such as nuts and brake disc could have caused serious damage to other road users.
"The vehicle came in via Holyhead and we know the wheel detached somewhere between Holyhead and Sandbach," said VOSA area manager David Collings.
VOSA is working with Traffic Wales and the Highways Agency to try to locate the missing wheel.
"This shockingly defective vehicle could have caused a catastrophic accident," said Mr Collings.
"It could have resulted in serious injury and loss of life, and also major disruption on the road network."