UK government reaffirms commitment to new Wylfa reactor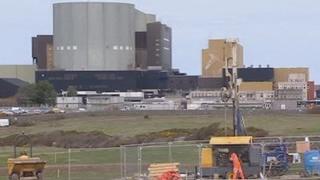 The UK government has reaffirmed its commitment to a new nuclear reactor on Anglesey during a ministerial visit to Wylfa.
Energy Minister Charles Hendry told the power station's staff the nuclear industry had a positive future on the island and within the UK.
Wylfa, which has been producing energy since 1971, will stop generating in 2014.
Two firms shelved plans to build a new power station at Wylfa in March.
The Welsh government has said Anglesey is the best option for nuclear development, while the company behind the project, called Wylfa B, says it is still live.
E.ON and RWE npower are looking for a new owner for Horizon Nuclear Power, the joint firm to develop Wylfa B.
Horizon had planned up to 6,000 megawatts of new nuclear plants in Britain, including Wylfa B, which they saw as more friendly to nuclear energy than other countries.
Mr Hendry also announced a new £480,000 socio-economic funding package awarded to the Anglesey Energy Island Programme (EIP) by the Nuclear Decommissioning Authority.
Mr Hendry said Anglesey could help power the UK for decades to come.
"We're very keen indeed to see the development of this site in Anglesey as a new nuclear reactor and therefore having people with the skills available to carry out the work is a really important part of the process," he told BBC News.
During his day long visit to the island, Mr Hendry spoke to students at Coleg Menai's Energy Centre.
He was also meeting officials from the EIP, Horizon Nuclear Power, Magnox Limited and EnergySolutions, Coleg Menai, Bangor University and other local stakeholders, as well as visiting Horizon's new site offices.
Anglesey council leader Bryan Owen said: "It's fitting that the energy minister should make his statement here on Anglesey as - in Wylfa - we have one of the best new nuclear build sites in Europe."