Workers dismantle MV Carrier cargo ship at Llanddulas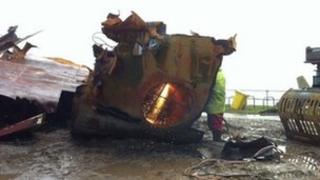 Demolition experts say they are ahead of schedule in their work to dismantle the wreck of a cargo ship that ran aground in heavy seas off the north Wales coast earlier this month.
About 25 contractors are breaking up the MV Carrier on the shore at Llanddulas, near Colwyn Bay.
It is being taken by road to Liverpool for scrap and recycling.
Seven Polish crew had to be saved during a rescue involving two lifeboats and Royal Navy and RAF helicopters.
German shipping firm Reederei Erwin Strahlmann, which owns the vessel, declared it a "constructive total loss".
Peter Cordwell from PGC Demolition said the work to dismantle the vessel was complex and that staff had a "limited window" due to the tides and weather.
He said the ship had sustained damaged alongside its hull as well as other areas of the vessel in the storm.
He expects the work to be completed in the next two to three weeks.
An estimated third of the ship is left on the beach after the removal of hold, canteen and staff quarters, among other areas of the ship.
A 100-metre exclusion zone around the vessel has been put in place to allow the work to be completed in safety.
An investigation into the incident in the early hours of 3 April was launched by the Department of Transport's Marine Accident Investigation Branch.
It led to serious problems for motorists using the A55 expressway which runs alongside the coast as it was partly closed for two-day to allow crews to work at the scene.