New home for artist Jonah Jones' Coleg Harlech sculpture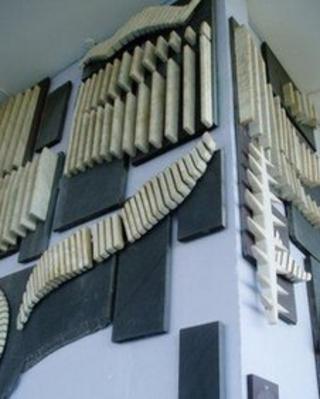 A new home has been found for a sculptor's largest work, which is currently housed in a soon-to-be demolished college halls in Gwynedd.
Jonah Jones' Y Bont (The Bridge) has covered 29.2 metres on three sides of a lift shaft at Coleg Harlech for 40 years.
The piece will now be included as part of a hotel redevelopment in the town.
The artists' family and supporters said they are delighted it will continue to be seen by the public.
Jones, who was also a writer, died in 2004. He made the work from more than 800 pieces of Sicilian marble and Welsh slate.
It has been seen by countless students in the Coleg Harlech Workers' Educational Association accommodation block over the years.
It was inspired by the mythical story of Branwen and Bendigeidfran from the Mabinogi - which has links to Harlech - and was put together especially for the college between 1969 and 1970.
Scene and Word Ltd, a private company with charitable aims, which was set up by the artist's family and supporters to safeguard and preserve his work, supports the move.
"The work covers three sides of the lift shaft in the college canteen, and as the building is about to be demolished it had to be moved," said Pedr Jones the artist's son.
"It has now been agreed that it will be transferred to the St David's hotel redevelopment in the town and we're very happy with this as it will be seen in the reception area.
"It's a fantastic opportunity too for the development to feature this work, which was my father's largest piece, free of charge."
Jones, born into a mining family with Welsh roots in Tyne and Wear, started a workshop in Gwynedd after World War II and worked in stone, slate, marble, bronze, as well as stained glass.
He was a friend of Clough Williams-Ellis and worked on his vision at Portmeirion village.
In 1981, he created a plaque in tribute to Dylan Thomas for Westminster Abbey.
Trefor Fon Owen, the principal of Coleg Harlech, said he was happy that a home was being found for the "huge" piece.
"It is so big, 30ft high by about 100ft across, so we have worked hard to get to a stage where it will have a new home that everyone is happy with," he said.
"The developers, Aitchinsons, will pay for it to be professionally dismantled, and then we will keep it for up to three years for them," he added.
The work will be taken down by experts from the Architectural Glass Centre at Swansea Metropolitan University, before being stored ready for reinstallation in the new hotel.