Titanic: Fifth officer Harold Lowe honoured with Barmouth plaque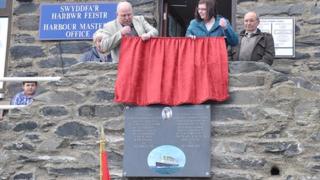 A slate plaque honouring Titanic hero Commander Harold Lowe has been unveiled at his home town harbour on the centenary of the disaster.
Lowe was fifth officer when the liner struck an iceberg and sank on 15 April, 1912 with the loss of 1,517 lives.
Records show he commanded the only lifeboat to look for survivors, pulling four people from the freezing water.
The plaque was unveiled by his grandson, Captain John Lowe in Barmouth, Gwynedd, where he then lived.
At the ceremony, Captain Lowe said: "The heroic deeds of my grandfather are well documented and I won't go into that.
"It is fitting that the memorial plaque is situated here on the quay from where you can see Penrallt, where my grandfather lived and the Mawddach estuary where he learnt his sailing skills."
Student Maddie Mathews, of Dyffryn Ardudwy, Gwynedd, who campaigned for the town to recognise Lowe's heroism, also attended.
Ahead of the service, councillor Sue Slater, who designed the plaque, said: "We invited Welsh actor Ioan Gruffudd, who played Harold Lowe in the film, Titanic, but he is not able to attend".
"He did, however, write what she called a very nice letter to the council, and that was read out at the unveiling," she added.
The actor's letter has also been framed and added to the council's Titanic collection.
Lowe returned to Barmouth to a hero's welcome.
He later moved to Deganwy, Conwy, where he died and is buried.