RAF 'no low fly' zone for ospreys Monty and Nora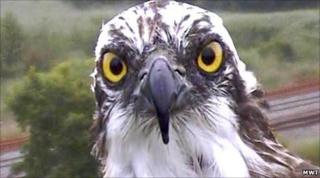 The RAF has imposed a "no low fly" zone around a part of mid Wales to ensure passing and jets and helicopters are no danger to a pair of breeding ospreys.
Warplanes and other aircraft have to stay above 500ft in the Dyfi valley, near Machynlleth, where Monty and Nora have returned to set up home.
Mongomeryshire Wildlife Trust said the birds were the first ospreys to fledge chicks in the area for 400 years.
Retired Sqd Ldr Albi Fox said: "We have a specific area mapped out."
The minimum height restriction was resumed at the end of March ahead of Monty and Nora re-settling their nest at the Cors Dyfi nature reserve near Machynlleth.
A man-made nest 50ft (15.2m) up on top of a telegraph pole and dotted with white paint to resemble bird droppings was built to encourage the ospreys to breed.
The nest is near the Aberystwyth to Machynlleth railway line but also close to an area used by British, American and Nato forces to carry out low-flying exercises.
Sqd Ldr Albi Fox, the RAF's community relations officer for Wales, said aircraft would routinely fly below 100ft with approval.
But that poses a possible risk to ospreys and any new chicks they might have.
'Military aircraft'
He said the service was approached last year by Montgomeryshire Wildlife Trust (MWT), which manages the reserve, to reduce the risk of the birds being struck by a low-flying aircraft.
He said: "We were quite happy to work with them last year and see that aircraft stayed at least 500ft."
The restriction was in place until the chicks fledged the nest last autumn and was re-imposed at the end of March this year after more discussions with the wildlife trust, he said.
He said: "We have made sure that no military aircraft will enter that area below 500ft."
The Dovey Estuary seasonal avoidance restriction will stay in place until September.
Monty and Nora featured in the BBC's Springwatch 2011 series.