One of Wylfa's nuclear reactors to be closed down on Anglesey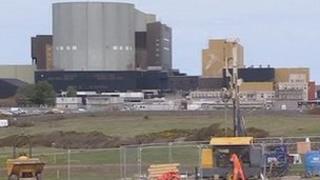 The Wylfa nuclear power station on Anglesey will close down one of its reactors later this month.
Officials said Reactor 2, which began operating in 1971, would stop producing electricity on 30 April because of limited fuel stocks.
The remaining Reactor 1 is allowed to operate until 2014.
Last month a company pulled out of plans to build the Wylfa B nuclear power station, which had been planned to operate on Anglesey from 2025.
The new station had been planned to replace the existing plant.
Some unions, politicians and community leaders were disappointed with the news, but it was welcomed by anti-nuclear campaigners.
On Tuesday, Stuart Law, Wylfa site director, said: "Reactor 2 has operated safely over the last four decades and this is a credit to the workforce who have maintained and operated the site in a safe and compliant manner.
"We can confirm that it will be shutdown on the 30 April and we will now focus on continued generation for Reactor 1."
Brian Burnett, head of programme for the Nuclear Decommissioning Authority (NDA), which owns the site, said Wylfa had a "long and proud history of safe electricity generation".