Hotel development plans at Kinmel Hall revealed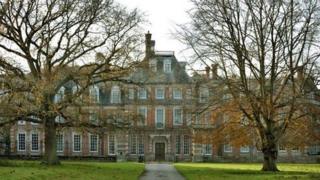 A mansion dubbed the "Welsh Versailles" will become a hotel, it has been revealed.
Kinmel Hall at St Georges, Conwy, was acquired earlier this year after being put up for auction at a cut-price £1.5m.
The 122-room mansion was in the hands of mortgage receivers, who say they still cannot name the new owners.
However, the buyer was described as someone who "understands heritage" and is "committed to the property".
Tyrone Courtman, who handled the sale of the hall for the insolvency firm Cooper Parry, said the development attracted interest from across the world, including India and Canada.
"It is a unique property steeped in character and history and once it is renovated, it will look and feel beautiful," he said.
"The new owner has experience of turning sites like Kinmel Hall into attractive luxury hotels so the site will get investment and the attention it deserves."
Listed buildings
Built in the 1870s, the house is set in 18 acres of land and has passed through a number of families and has seen several business ventures rise and fall.
It has been a spa for treating rheumatism and a girls' school, before being being badly damaged by fire and then restored as a Christian conference centre.
However, plans to develop the site following an auction in 2001 never materialised.
It remains the largest surviving country house of its kind in Wales.
Much of the main hall and a series of mews houses on the site are grade II listed buildings, while the original stable block is a grade I listed structure.
Mr Courtman said work to restore the buildings as a hotel would "take some time".