National Trust plans Snowdonia hydro electric power scheme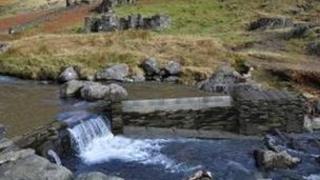 Plans have been unveiled for a hydro electric scheme in Snowdonia which could create enough power to run the National Trust's Welsh properties.
The charity aims to build a small weir to channel water down an underground pipe to a 650kW turbine.
The turbine will be housed in a building on the trust's Hafod Y Llan farm near Beddgelert.
The pipe is planned to carry the overflow of water from Afon Cwm Llan on the slopes of Snowdon.
The National Trust said the scheme could generate enough electricity to run all of its properties, including castles, mansions, gardens, 45 holiday cottages and 200 farms in Wales.
The charity says its power requirements are equivalent to the annual electricity consumption of more than 600 homes.
Keith Jones, environmental practices adviser for the trust, said: "As trusted guardians of places of historic interest and natural beauty we believe the measure of our success is when you can't see that anything has been done."
Mr Jones and his energy team have already installed many concealed renewable technologies across Wales, from solar panels on castle roofs to biomass boilers hidden in towers.
They have almost halved the charity's energy use in Wales in two years.
But the trust is keen not only to manage usage, but also to become completely energy self-sufficient in Wales by 2015.
He added: "We will only look at an energy proposal if it is first and foremost suitable for the site, and adds to the story of its location."
The National Trust said it had undertaken numerous consultations with the local community, and conducted surveys of the wildlife, archaeology, ecology as well as the river itself to ensure the proposal has minimal or no impact.
"The proposed site on Afon Cwm Llan is absolutely perfect because the river is sterile due to its industrial past, and there is a history of hydro electricity in the area," Mr Jones said.