Colwyn Bay pier: Heritage Lottery Fund rejects Conwy fund bid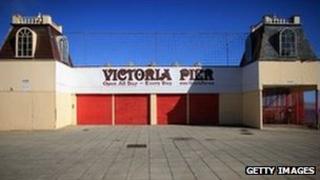 A council's £4.9m application for lottery funding to restore a Grade II listed pier has been turned down.
The Heritage Lottery Fund (HLF) says it carefully considered Conwy's application for Colwyn Bay's Victoria pier but it was over-subscribed.
The council claimed ownership of the landmark after the Welsh government acquired it from the Crown Estate.
Conwy council says it will carry on looking for ways to repair and refurbish the pier.
"We are naturally disappointed, but the funding application can be revisited as it is not a case of now or never," said the council.
"What is important to the council is that it has control of the pier so that the appearance of an obvious eyesore can be improved.
"We are entirely committed to achieving this aim and will be pursuing all opportunities."
HLF said it would meet the council soon to discuss the future of the project.
"We were impressed with the council's imaginative plans to transform Colwyn Bay Victoria pier and its art deco pavilion into a much-needed community and tourist centre," said Jennifer Stewart, head of HLF Wales.
But she added: "This month's HLF board meeting was very over-subscribed.
"The quality of bids was exceptionally high and, regretfully, we just didn't have enough money to support all the applications we looked at on the day.
HLF said to date it had made awards in Conwy totalling £8.5m, and the council had received previous grants totalling £5.8m for a number of HLF projects.
Conwy council said on 28 March that it was the new owner of the 112-year-old pier, which once hosted performers such as Morecambe and Wise, Harry Secombe and Elvis Costello.
A consultation on multimillion-pound plans for the pier's redevelopment was launched in November 2011.
The proposals for the pier, which opened in June 1900, included a restaurant, revamped pavilion theatre and shops.