New measures gives better protection to common land says conservation body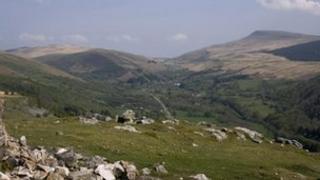 Changes to rules covering common land will better protect the countryside in Wales, says a conservation body.
The Open Spaces Society says from this month any fencing, buildings, ditches and the laying of roadways will need consent.
The Welsh government said last year the land represents an important part of the national heritage.
Common land, which covers 175,000 hectares of land across Wales, often dates back to medieval times.
"We are very pleased that common land in Wales will now be better protected," said Nicola Hodgson, of the Open Spaces Society.
"There are no exemptions for works requiring consent in Wales - unlike in England where exceptions are made for temporary fencing for instance - and no fees will be charged for applications."
David Bateman, the Wales spokesman for the society, added: "These clarify the process for obtaining the environment minister's consent for works on common land, and spell out much more clearly which works require such consent."
Bryn Williams, who has grazing rights on common land near Rhosgadfan in Gwynedd, said he was happy with anything which protected the land.
"If there are a lot of changes in the pipeline then we need to be careful of how things are done," he added.
Last October the Welsh government announced the draft regulations in relation to the control of works on common land.
At the time it said the Commons Act 2006 was the first significant piece of legislation relating to common land in 40 years.
"(It) is intended to protect common land for current and future generations and deliver real benefits in terms of sustainable farming, public access and biodiversity," it added.
The Welsh government said the regulations took effect on 1 April.