Seiont II maritime museum in Caernarfon shuts due to running costs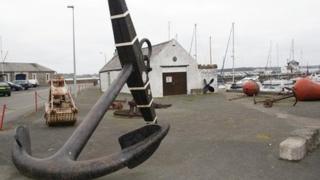 A maritime museum in Caernarfon, Gwynedd, has closed its doors for good and the charitable trust which runs it wound up.
The Seiont II maritime museum at Victoria Dock was run by volunteers.
Gwynedd council is likely to take on responsibility for most of the artefacts, but loaned items could be returned to their owners.
The trust blamed the closure on running costs and being unable to bring in enough revenue.
A council spokesman described the closure as disappointing but said it understood the difficulties.
Trust chair Rhys Prytherch said insurance costs alone were £1,000 a year, compared with £200 in revenue from admission.
'Dedicated volunteers'
While the organisation had received some financial support, it was unable to find enough sources to keep the museum running.
The trust has 44 members, of which half a dozen are active members. It last opened the museum in summer 2010.
Mr Prytherch said the plan now was to give the trust's memorabilia to Gwynedd museum service and effectively return the keys to the building to the council, which is also the landlord.
A council spokesperson said discussions were ongoing on the possibility of exhibiting a selection of the artefacts within the Gwynedd museum and gallery network which could include Oriel Pendeitsh in Caernarfon, Gwynedd Museum in Bangor and the archives in Caernarfon.
"The important issue for the council is that the collections are safeguarded and curated to recognised standards," he said.
"We would also like to pay tribute to the dedicated volunteers and trustees that have been working diligently at the maritime museum over the years."