Nudist recognition call for Newborough beach, Anglesey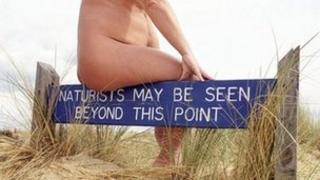 A call has been made for an Anglesey beach to be officially designated for naturists, or for baring all to be stopped altogether at the site.
A local councillor's plea was made over parts of Newborough beach, which have long been used unofficially by nudists.
Now a debate has started over official recognition, with naturists saying it may boost tourism among their ranks.
The council says Newborough beach does not have a naturism section and it has not had any requests to create one.
Councillor Peter Rogers, who represents the community, wants clarification for everyone, saying a section of the beach should either be recognised for nudists or else people should be stopped from going nude.
'Left alone'
He said if a site was created it could be developed for naturists and used to boost tourism for the area, which he described as deprived.
Meanwhile, anaturist has contacted the Daily Postnewspaper to say signs should be put up on the beach telling people where boundaries are for nudists.
British Naturism commercial director Andrew Welch agreed that creating a place for nudists could bring money to an area although nudists did not necessarily need officially designated places.
"Naturists are normal people with money to spend," he said.
According to the British Naturism website, there is one official nudists' beach in north Wales at Morfa Dyffryn, between Barmouth and Harlech.
There are also nudists' groups covering north Wales, Swansea and the Vale of Glamorgan.
Mr Welch explained: "The law of this country is clear. We do not need designated places to be nude.
"Having said that, it does help because [designation means] we do get left alone."
North Wales Police has been asked to comment about nudity on public beaches.
TheAnglesey Hidden Gemswebsite warns visitors to neighbouring Llanddwyn beach to stay covered up.
"If you are after 'total freedom' then be warned because the sign in the car park informs us that naturists are frowned upon by the authorities," it says.
But Anglesey council said it had not put up that sign.
A spokesperson said: "There is currently no naturist section on Newborough beach or any other Anglesey beach and our maritime section has not received any requests for one to be created."