Trawsfynydd enterprise zone could create 500 jobs, report claims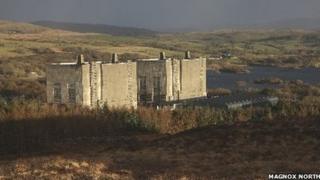 Up to 500 jobs could be created in Gwynedd in an enterprise zone at Trawsfynydd, a report claims.
Councillors are being told that 500 jobs will be lost in 2016 as the nuclear power plant is decommissioned.
The Welsh government has approved a bid from the council to designate the site as a potential enterprise zone with tax and planning benefits for companies.
Proposals are focusing on renewable energy and low carbon technology, and the digital and data sector.
In September, the Welsh government announced plans for five enterprise zones across the country, following a similar declaration by the UK government with respect to England.
Gwynedd was not included at the time, but the council's request to add Trawsfynydd to the list was approved by ministers in January.
Ministers are expected to confirm shortly the exact locations of the enterprise zones, where firms are likely to enjoy financial incentives and reduced planning restrictions to encourage new jobs and economic growth.
Closing down
Trawsfynydd nuclear power station stopped producing electricity in 1991 and is currently being decommissioned.
The report being considered by Gwynedd council on Tuesday notes that the first phase of decommissioning will be complete in 2016 with the loss of over 500 jobs and £80m a year investment by the Nuclear Decommissioning Authority (NDA).
Senior council officers say existing attempts to create alternative employment will be boosted by the prospect of an enterprise zone.
The report says: "Snowdonia Enterprise Zone will be a golden opportunity to develop a range of innovative and exciting projects which will re-establish the Trawsfynydd power station site as a driver for the generation of prosperity and wealth in Meirionnydd and across Gwynedd."
It adds that the development would largely be on brownfield land and would benefit from the existing infrastructure and skilled workforce, along with the natural attractions of Snowdonia.
Proposals for a potential enterprise zone are focused on two areas: renewable energy and low carbon technology, and the digital and data sector.
The report notes that the extent of the council's financial commitment to the enterprise zone had yet to be outlined, although the authority was already committed to creating economic prosperity in the area.
In conclusion, Gwynedd council chief executive Harry Thomas said he hoped it would contribute to the council's desire of spreading growth across the county.
"Obviously, any resource implications will become more obvious as the work proceeds - however the work of developing further proposals is important."
Political parties have welcomed the idea of an enterprise zone.
The council's Plaid Cymru leader Dyfed Edwards said they'd been in discussion with business minister Edwina Hart about the idea for some time.
He said: "We're very, very glad that the minister has seen the need and is enthusiastic to set up an enterprise zone in a rural part of our county. We're hopeful it will instigate positive economic activity creating jobs and prosperity."
Labour's Gwen Griffiths said: "I think it's an excellent idea because Meirionnydd is so starved of jobs. I agree with the renewable energy idea for Trawsfynydd - what I wouldn't like to see is another nuclear power station."
Stephen Churchman for the Liberal Democrats said: "I think it's a good idea - we do need something to develop employment and a little bit of money in this area."
Louise Hughes of Llais Gwynedd claimed to have devised the idea of a Meirionnydd Employment Plan two years ago.
"I'm really chuffed that it's evolved into an enterprise zone," she said.
"We're desperate for help - young people are moving away, they just can't find a job."
Andrew RT Davies AM, leader of the Welsh Conservatives, said: "We welcome the announcement of an enterprise zone in Trawsfynydd but we are disappointed that Labour ministers are dragging their heels in delivering action on the ground. 
"We await the detail of the plans and are particularly interested to see how an enterprise zone based on energy can deliver much-needed local jobs in the Trawsfynydd area."