When Ken Dodd learned Welsh: People's Collection Wales evacuee memories plea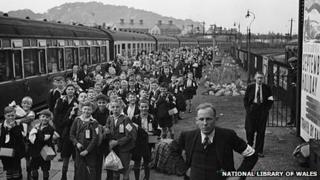 The story of how Liverpudlian comedian Ken Dodd learned Welsh during his four years as a wartime evacuee in north Wales is one of many contained in an online archive dedicated to the nation's history.
Four days before Britain declared war on Germany on 3 September 1939, the evacuation began of millions of children from major UK cities, to protect them from bombings and gas attacks by the Luftwaffe.
As part of this pre-emptive measure, some 3m people were transported away from urban centres of industrial and political significance to the safety of the countryside.
Many went to mid and north Wales, all as part of an operation codenamed Pied Piper.
Robert Griffiths, 84, from Penmachno, Conwy, was at school with two or three evacuees from Liverpool including Dodd, who was evacuated to a nearby farm in 1940.
The pair became good friends in the four years Dodd lived in Penmachno.
"My primary school was Welsh-speaking, so Ken learnt the language and wasn't too bad at it either," said Mr Griffiths.
"Even as a young child he was funny, so it's not surprising he ended up being so successful."
But when the evacuees first arrived the atmosphere was tense.
"There was fighting between the Liverpool boys who were very confident, but the north Wales boys were farmhands so they were quite handy. After the initial struggles everybody settled down and all got on well together."
Mr Griffiths recalled the children from Liverpool arrived looking like "skin and bone", but went home much healthier having been fed freshly-sourced farm foods.
Many years after the war, in around 1992, Mr Griffiths went with his wife and daughter to see Dodd live on stage in Blackpool, and his daughter called ahead to let the comedian know his wartime friend would be there.
Towards the end of the performance Dodd shouted out: "Hello, is Robert Griffiths here?" and told the crowd how he went to school with him in north Wales as an evacuee.
The Griffiths family met Dodd backstage, who spoke fondly of his recollections of wartime Penmachno.
'Dig them out'
People's Collection Wales (PCW), an online archive which already contains almost 36,000 items from old photographs to video stories, is looking for content relating to evacuees brought to Wales.
"We are calling on people that have content relating to evacuees to dig them out and upload them so that their memories and heritage can be shared," said PCW's Rheinallt Ffoster-Jones.
"Also if you recognise anyone in these pictures please log on to the website and let us know."
Having arrived in 1939, the evacuees from Merseyside managed to evade the German raids that began in late August 1940.
More than 4,000 Liverpool residents lost their lives during the Blitz, second only to London, where 30,000 civilians were killed by the end of the war.
Had these children not been evacuated to remote parts of Wales, these numbers would certainly have been much higher.
People's Collection Wales is a partnership project between Amgueddfa Cymru - National Museum Wales, the National Library of Wales and the Royal Commission on the Ancient and Historic Monuments of Wales, and is funded by the Welsh government.
It offers the public a chance to contribute their own archives of memories, photographs, video and audio.
The collection is a constantly growing resource for the people of Wales to learn about their history, and anybody can submit content in a variety of formats.
'No aspect forgotten'
"People's Collection Wales is a great website for ensuring that no aspect of Welsh history is forgotten," said Mr Jones.
"Life is changing fast and if we don't record these memories then they will be lost forever and we'll never get them back."
Mr Jones said content about how Welsh people live their lives was valuable because it achieved more than just showcasing the items themselves.
"Photographs, for example, can highlight developments in economic change, culture and attitudes," he said.
"In the last year we have seen a huge increase in the number of uploads made by the general public.
"This is the true mission of the People's Collection of Wales- to turn the person on the street into a curator of their own museum and getting them to rummage through the attic, and share the treasures of their past to become a part of Welsh history."
PCW is one of the partners to BBC Wales' history series The Story of Wales, which concludes on Monday by tracing the past 70 years of life in Wales.
The Story of Wales: Wales and Britain is on BBC One Wales on Monday, 26 March at 21:00 BST.