Summer start to £40m Pontio building at Bangor University site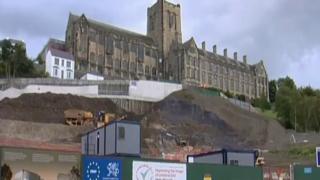 Bangor University says construction work on a new £40m arts and innovation centre will begin in early summer.
Pontio will house a new theatre, studio theatres, cinema, restaurant, bars, student union, teaching and learning spaces.
The 10,000 sq m structure will provide a link from the city's Memorial Arch up a steep slope to the university's main building.
Edinburgh-based Miller Construction has been named as the preferred bidder.
Bangor has been without a theatre since Theatr Gwynedd closed in October 2008.
An opening date of 2014 has been put on the project.
In December 2010 it was announced that the Bangor University-led Pontio project would receive £12.5m from the European Regional Development Fund, and £15m from the Welsh government towards a cost of £37m.
Other funds would come from the Arts Council of Wales and the university.
The overall figure for the project is now quoted as £40m.
An university spokesperson said: "The plan has slipped, mainly because European purchasing processes are particularly complex.
"We have also sought best value for the project without affecting the quality of the plan."
The spokesperson added the £37m did not include certain costs such as aspects of demolition and site clearance plus other costs.
'Cultural beacon'
"This is a large and complex project and in total the capital expenditure will amount to £40M plus," the university added.
When the project was officially launched Bangor University said the scheme would create or safeguard 450 jobs during the construction phase, 100 more during the operational stage, and a further 330 jobs through the innovation hub.
It would be a "cultural beacon for Wales and a champion of the Welsh language", the university added.
In August, the chief executive of the project, Robert O'Dowd, left his post just months after being appointed.
A meet-the-contractor event is to be arranged to promote opportunities for vocational training during the construction period.