Llandudno's aerial ladder appliance axed by fire authority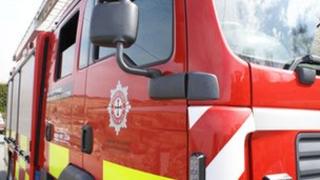 A decision has been made not to replace Llandudno's ageing aerial ladder appliance (ALP) by North Wales Fire and Rescue Authority.
The move comes despite recent claims by Conwy council that the rescue ladder was vital if there was an emergency in the town's many hotels.
But the authority said the ALP was coming to the end of its working life.
There will now be three ALPS in north Wales, in Bangor, Gwynedd, Wrexham and Rhyl in Denbighshire.
It is thought the machines cost about £600,000 to replace.
Last month, councillor Goronwy Edwards told a Conwy council cabinet meeting he thought the plan to remove the platform was "ridiculous".
"We have a significant number of hotels in Llandudno that need it, and nearby Colwyn Bay is the second largest town in north Wales with plenty of high buildings," he said.
Councillor Philip Evans added: "We have faced this situation previously, but there clearly seems a sustained effort to take the aerial ladder away from Llandudno. It's of considerable concern."
Following that meeting, the council wrote objection letters to the North Wales Fire and Rescue Service, the authority and the Secretary of State for Wales, among others.
It also asked the Auditor General for Wales to review the plans.
However, at ameeting on Monday, the fire authority cast a majority vote to remove Llandudno's ALP.
A spokesperson said much stricter regulations meant hotels were safer now than they had ever been.
The authority's executive panel previously decided three ALPs could cover the region and maintain a 30-minute response target.